This post is also available in: Español (Spanish)
XV Seminar of Escuela Cultura de Paz in training through the values of sports, music and volunteering.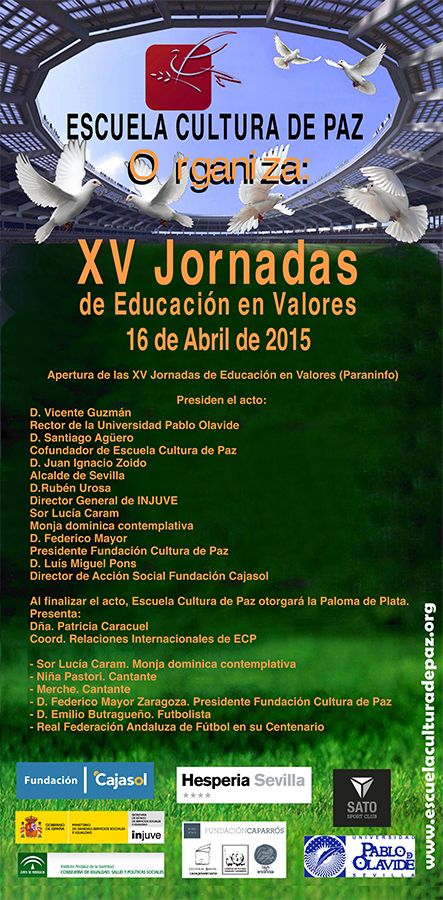 Paloma de Plata
Cora Weis y Embajador Anwarul
Thanks to the work of Don Federico Mayor Zaragoza and Escuela Cultura de Paz, we had the honour to receive the messages of Mrs. Cora Weis, president of Hague Appeal for Peace and the International Peace Bureau, as well as a greeting of Ambassador Anwarul, member of the cabinet of the General Secretary of the United Nations and UN High Commissioner for the least advanced countries..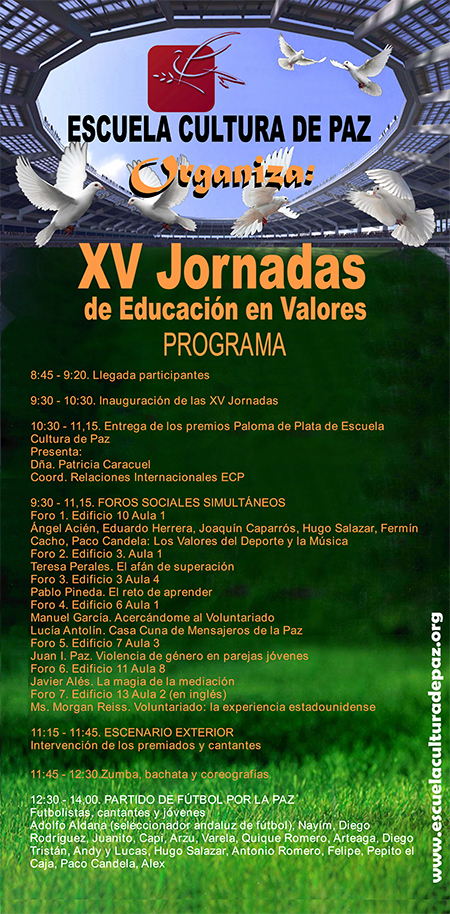 Paloma de Plata
Federico Mayor Zaragoza
The Paloma de Plata Award of our association was given to Federico Mayor Zaragoza, due to his tireless work in favour of a Culture of Peace, his defence of Human Rights and his friendship and support to Escuela Cultura de Paz.
Mr. Federico Mayor Zaragoza could not be there at the time of the act for personal reasons, but he wanted to send us the following message for all attendees.
On April 16 we celebrated the XV Seminar of the Escuela Cultura de Paz: Education in the Values of Volunteering, Sports and Music.
Pablo de Olavide University was again the chosen place for the celebration of the event.
More than 1,200 young people from different High schools of Seville, Málaga, Cádiz, Granada and Jaén, and students of Pablo de Olavide University participated in the forums given by people who stand out for their values of Peace, Solidarity, Respect, Democracy and Freedom.
In the ceremony held in the assembly hall of the university, our association's Paloma de Plata Award was granted to Sor Lucía Caram, the singers Niña Pastori and Merche, Mr. Federico Mayor Zaragoza -president of Fundación Cultura de Paz and former general manager of UNESCO-, the former footballer Emilio Butragueño and the Real Federación Andaluza de Fútbol in the year of its centenary.
We were accompanied by the singers Andy and Lucas, authors of the hymn of the association ''Dame la esperanza.''
We want to say thank you to the speakers, footballers, singers, artists, teachers and young people who shared the day with us, because they are the culmination of the huge amount of work developed during the course.
Sponsors: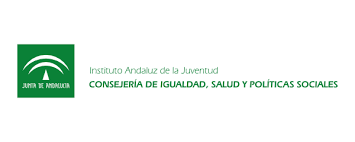 Premiados con la Paloma de Plata en la XV Jornada